Earlier this month I finally graduated! You may now refer to me as Louisa Rose Brooks BA, with a first honours degree! It was a beautiful ceremony and we all looked awesome in our robes! I'm so proud of myself and all of my classmates who did so well, I wish the best of luck to everybody!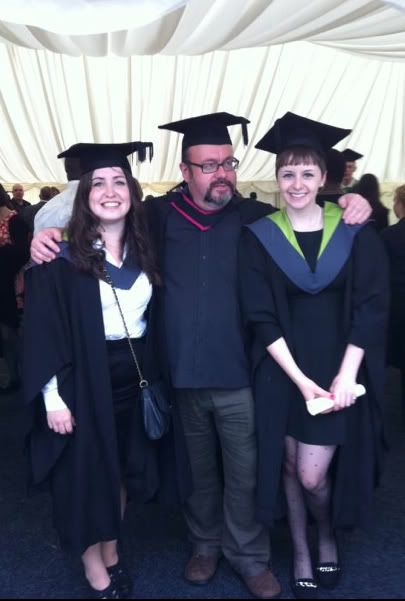 Me with one of my favourite tutors Mike Nicholson and my best friend Michelle Siddall.
I've also spend the last month interning at a company called
Naked Penguin Boy
doing my absolute dream project. I can't say much about it (that would give it away now wouldn't it! :p) but I'm pretty much being a mini-games artist, concept artist, level & puzzle designer and I'm even doing a little animation! It's made me realise that this is what I want to do for my career and I'm really looking forward to my future. Best of all I've been challenging myself everyday, and have faced some of my biggest (drawing) fears, such as rock faces and foliage!! AAAAAH! :D
I've been enjoying myself tremendously at Naked Penguin Boy; it's a wonderful place to work in one of the nicest areas in London, and I will be sad to say goodbye to everyone there! :(
Also they've just recently released a new game for the Blackberry Playbook. It's called Dunky Dough Ball and it's a pretty cool and addictive little game so If you have a Playbook check it out!
xLouisax