Moments after the finishing my final degree show, me and my chums took off to spend a long weekend at the world famous, Glastonbury Festival!
None of us had been to Glastonbury before, and after spending a very wet weekend at Reading festival last year, I felt confident that I'd be able to handle any weather Glastonbury could dish out - but oh how wrong could I be?
The weather was TERRIBLE, it took 8 hours to get into the campsite in the pissing rain, and to make things worse the last two days were SCORCHING hot.
Aside from the heat and rain however, the festival was actually pretty good, cos there's SO much to do, besides listen to music. Avalon was a hippy area resembling much of the towns in the Fable games; Shangri-la and the other after hours areas lived up to their reputation as being FREAKIN WIERD; not to mention the large array of the shops boasting collections of friendship bracelets for you and your friends to get excited over.
Robyn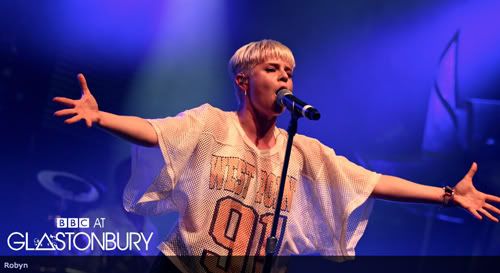 Image Source: http://www.bbc.co.uk/music/festivals/glastonbury/2011/artists/robyn/

The artists I particularly enjoyed were Tinie Tempah, Beardyman, Chemical Brothers, Hurts & Robyn. Robyn was probably one of the most memorable because I hadn't realised how much I liked her before I saw her live, and also, she freaked out on stage and threw her microphone over because her earphones weren't working. It was quite exciting. Nonetheless, she still sang spot on when her ears weren't working, it was a great energetic performance and nobody was in the slightest bit bothered about the technological problems. Good on you Robyn <3

xLouisax