I recently had a family holiday in Cornwall, England. I've been a few times before when I was younger, but never have I been somewhere in Britain where the coastline was so picturesque! Literally aqua blue seas and bright sunny skies, like something out of a travel guide. I didn't take anything work related on holiday with me so I've had to resort to drooling over the billions of photographs I have taken.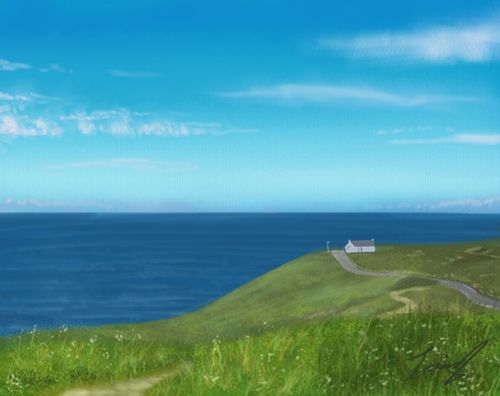 I haven't painted anything in a while, so thought I'd sketch something out to remind myself of my holiday. Hmmm, not bad.... It was nice to experiment with tons of different brushes. It's refreshing to do something like this when the artwork I usually create day to day (with vectors) is a
completely
different technique. I should really paint a lot more, I'd probably get a lot better at it, lol.
I don't like to call myself a painter because I think it is a bit of an insult to people who actually are painters, so, because I mostly create artwork with Flash and Illustrator I'd call myself a digital illustrator (for now). :)
xLouisax